Celebrate St. Patrick's Day with Temporary Tattoos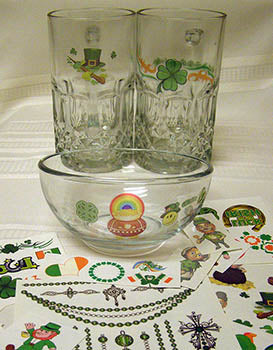 If you're like us here at TemporaryTattoos.com, your favorite color is green - for Saint Patrick's Day! The color green has always been associated with this fun and festive holiday Green ribbons and shamrocks were worn in celebration of Saint Patrick's day as early as the 17th century.
To help you plan your St. Patty's day fun, we've put together some quick tips for hosting a great St. Patty's Day party and incorporating temporary tattoos.
1. Provide Green Accessories
No one wants to get pinched on St. Patrick's Day. Level the playing field and make sure that everyone at your party is wearing some green. Pass out green, St. Patrick's Day-themed beads, hats, and temporary tattoos. Be sure to set up a tattoo station for guests to apply their green ink.
2. Cook Creative Dishes
Stumped on what to serve on St. Patrick's Day? Put your own twist on classic Irish dishes. We love the idea of serving funky and festive treats like corned beef tacos or corned beef and cabbage tarts. Add a healthy spin to your spread with some fresh green salads, or get a little un-healthy and indulge guests with homemade cupcakes topped with yummy mint green frosting.
3. Personalize Your Party
Host an after-parade brunch and use St. Patrick's Day temporary tattoos to personalized mugs and serve-ware for your guests too. Temporary tattoos will quickly and easily stick onto plastic party dishes and some glassware, like pint glasses, so you can customize your place settings for this festive occasion! If you really want to make a statement, you can order custom tattoos that feature your name as the "Brewmaster" or "Pub Owner," or tattoos that use your family name.
Decorate your St. Patrick's Day serveware with temporary tattoos.
We're wishing you lots of luck in your St. Patrick's Day party planning. Cheers!