Custom Temporary Tattoos Build Team Spirit At Robotics Competition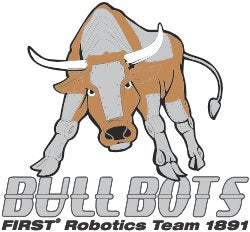 Who:
FIRST Team 1891 The Bullbots is a robotics competition team based in Meridian, Idaho. The twenty-five student team members work with mentors to build working robots. The mission is to helps get young people excited about pursing opportunities in the sciences, engineering, and robotics.
The Need:
First Team 1891 The Bullbots participates in an annual high school robotics competition called FIRST (For Inspiration and Recognition of Science and Technology) Robotics Competition. Although this competition involves building and competing with advanced robotics, students will sport face paint, colored hair spray, and show their team spirit as if at any other sporting event. This year, the Bullbots decided to create custom tattoos their team could wear and hand out to build more team spirit and have fun!
This video shows the Bullbots competing in the FIRST Robotics Competition Utah Regionals.
The Tattoo:
The tattoo design was created by a student on the Bullbots and also serves as the team logo on its t-shirts, website, outbound communications, and social media profiles. Featuring a bull ready to charge, with metal plates and robotic legs, the design really represents the Bullbots unique identity and helps the team stand out from other FIRST competitors.
The Bullbot's tongue-in-cheek motto is "It's just a prototype." This motto reflects the team's tendency to continually improve on what they're building
Results:
Everyone on the team wore the tattoos and got tons of compliments from other competitors. The Bullbots even handed out more than 250 tattoos to other teams and were proud to see so many other student competitors wearing the tattoos to show team spirit. The Bullbots do frequent robot demonstrations at schools, libraries, and businesses and plan to hand out custom temporary tattoos to promote their team and the FIRST organization.