Custom Tattoos: How to Order and Customize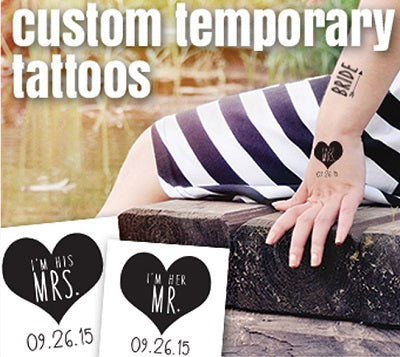 Creating a Custom Tattoo
Are you looking to add a personalized touch to your next party or event? You can create a temporary tattoo of any image or photo. That's right; we said any high resolution image or photo. Upload your own artwork, logo, or favorite photo of you and your best friend to the custom order page, and we'll make it into a temporary tattoo. (Note: Of course, we can't make tattoos of images/characters that are copyrighted by someone else. Have a question about a specific image? Just ask us!)
You can customize the back of the tattoo also! We will print the back of your tattoo in black for FREE! This is a great spot for you to include your logo, website, contact information or social media links. Is your event coming up soon? We work fast. Once you send us your order and your artwork is approved, we can create & ship your regular custom temporary tattoos in just 5 business days (after art approval- our special options like PrismFoil, glitter, neon or glow in the dark take longer to print). That means that your custom tattoos will be on your doorstep pronto. Satisfaction Guaranteed!
We have tons of tattoos ranging in different sizes and colors for you to choose from. Our glitter and glow-in-the-dark temporary tattoos are very popular for kids and events. Ask us about how these specialty tattoos work and how you can create your own! 
Ordering custom tattoos in 3 easy steps
Select your custom tattoo size and quantity.
Upload your artwork to the website.
Add the tattoos to your shopping cart & check out.
If you're a designer or just more savvy, you can pick the advanced path with many more options such as white options, special packaging, and more.