custom tattoos
& over 2500 Stock Designs
tattooing for you since 1989
Superior Adhesive Placement
We place our adhesive exactly where it is needed, only behind the tattoo design itself! Some competitor tattoos place a large adhesive box around the entire size of the design. The result is a sticky mess that doesn't look realistic at all.
Use the slider below to see for yourself!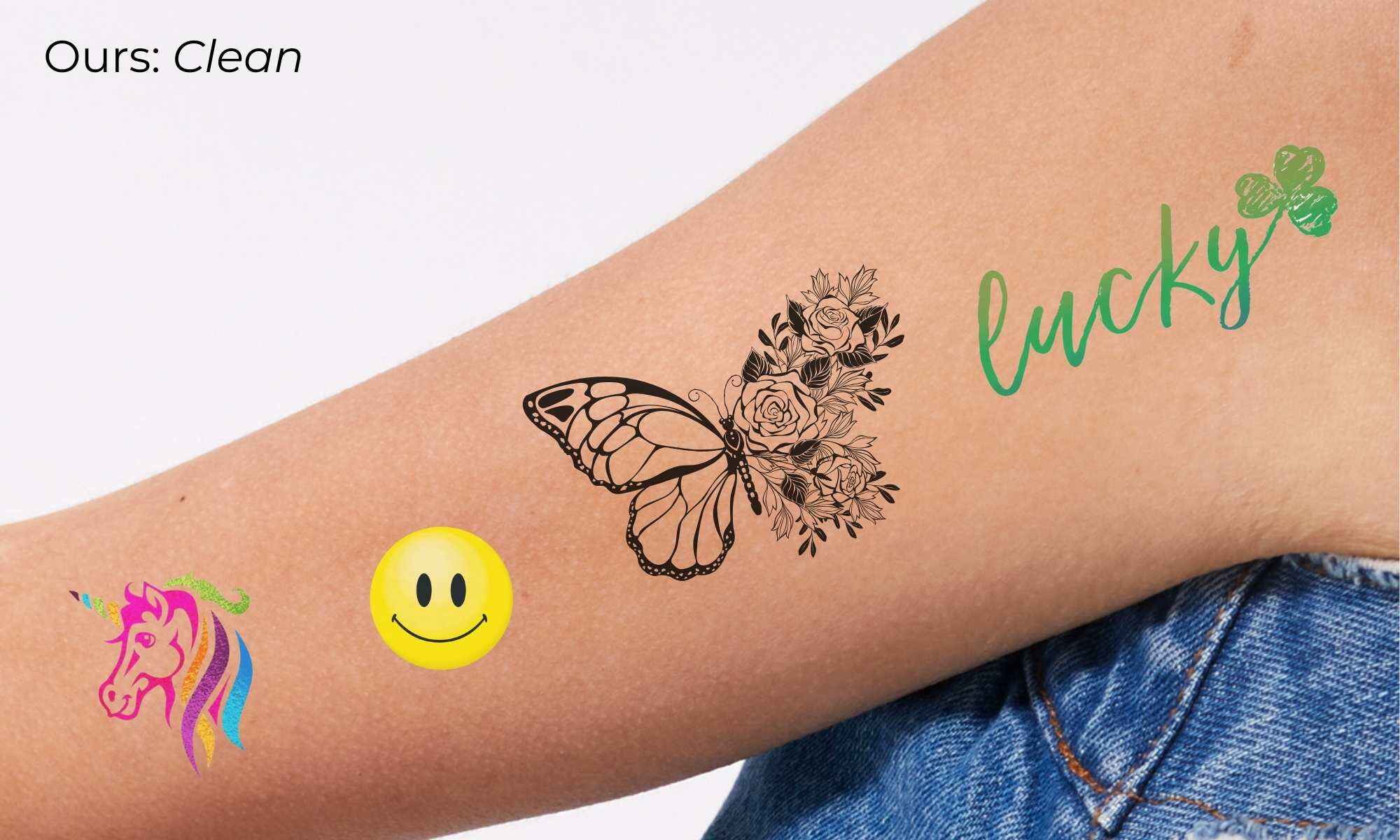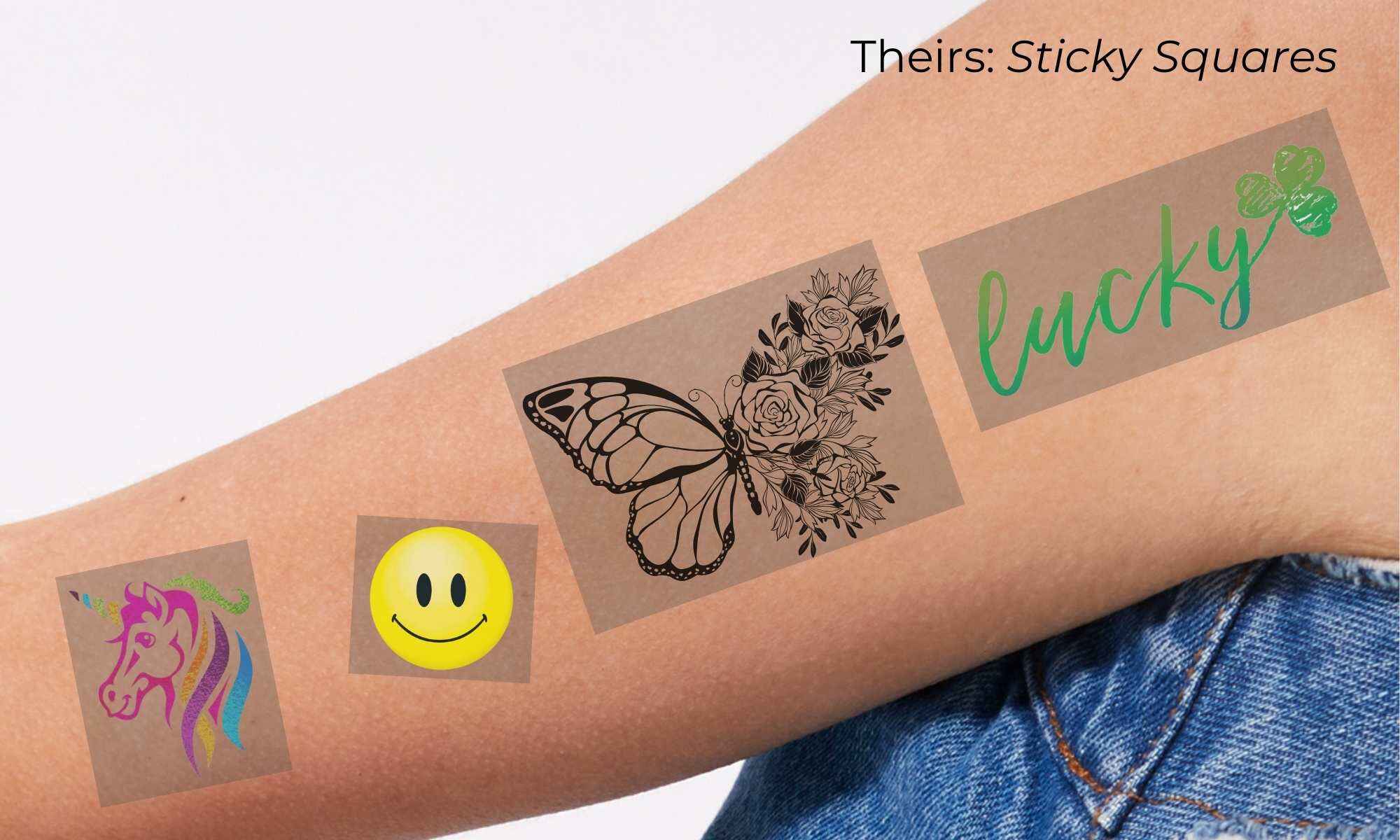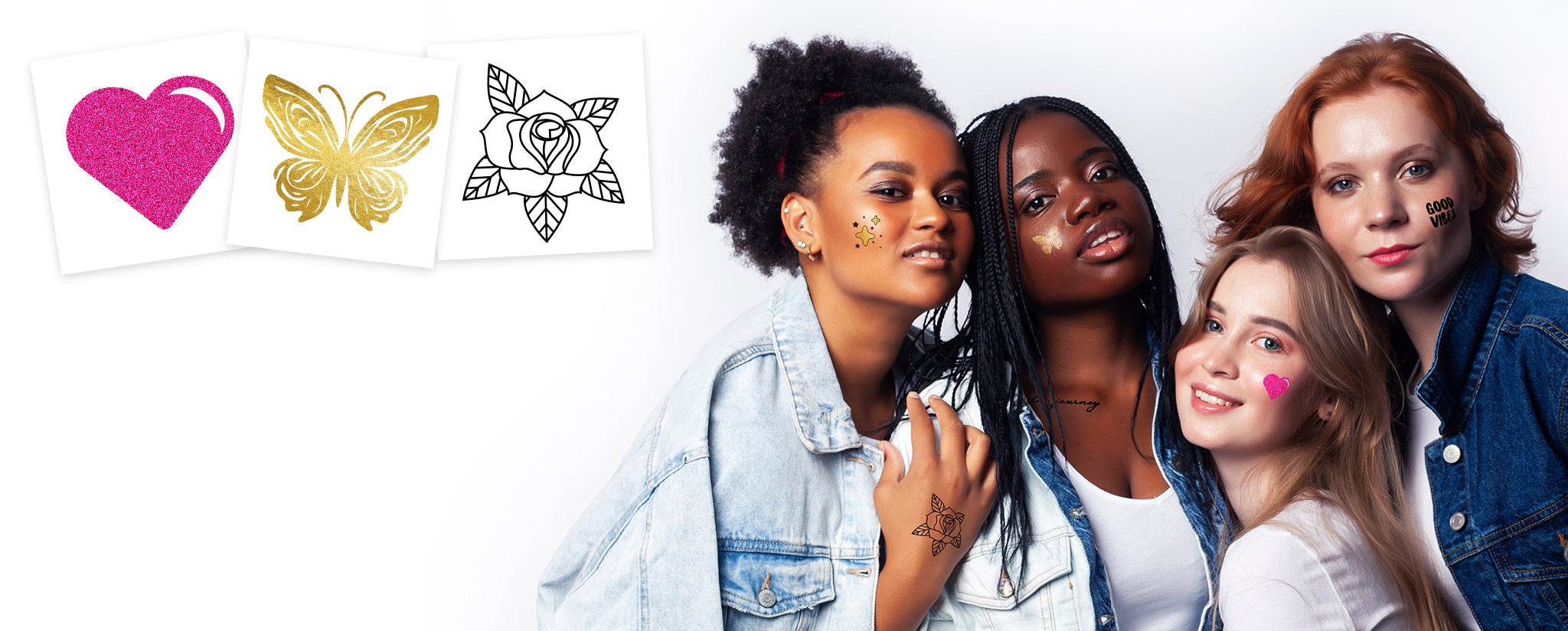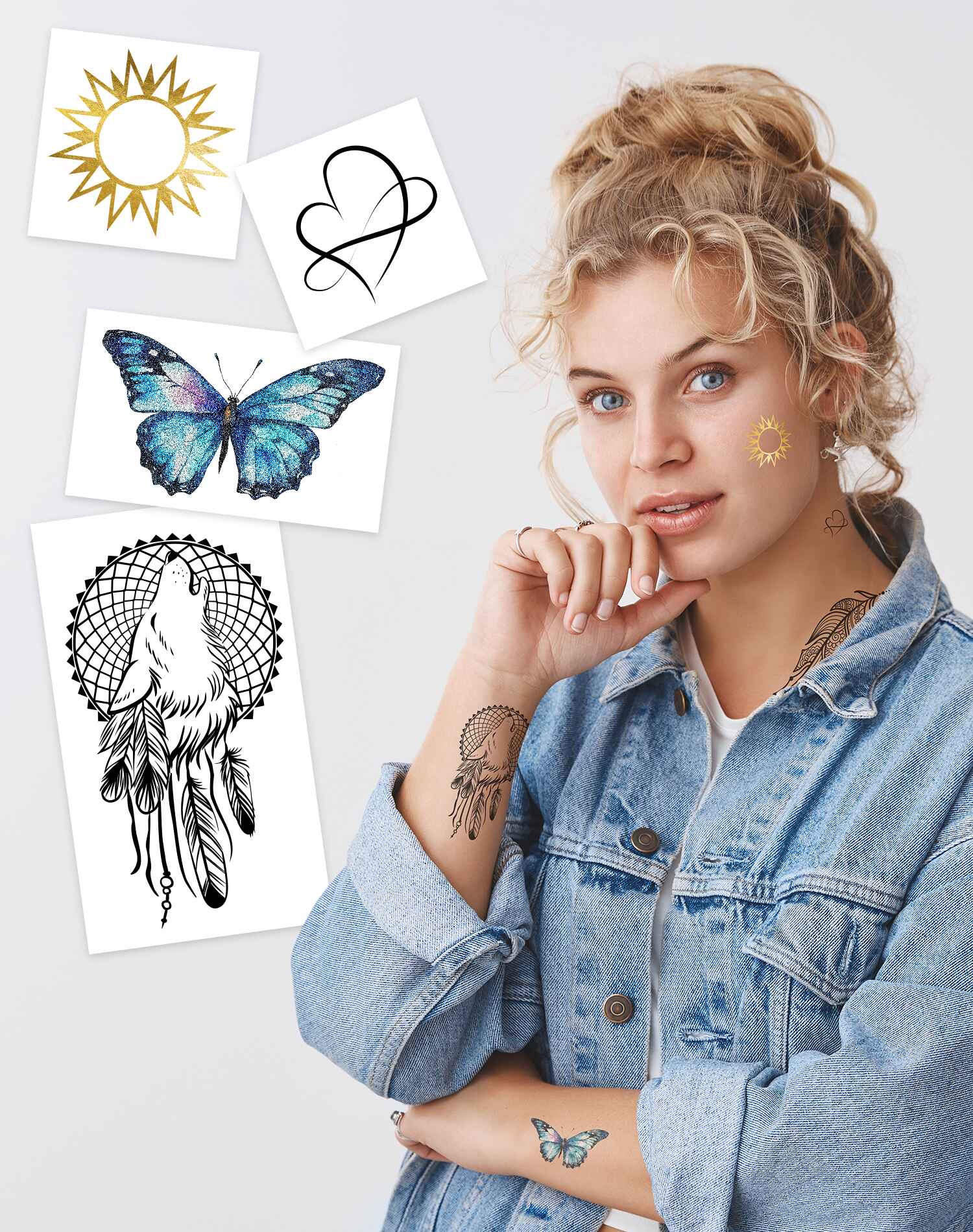 Classic Custom Tattoo
Classic Custom Tattoos you have always loved.. Printed with Skin-Safe Cosmetic Grade Ink and Made in the USA!
Glitter Custom Tattoo
Looking for something with a little bling? Sparkle and glimmer with our Custom Glitter Temporary Tattoos! Skin-Safe glitter tattoos made in the USA!
Metallic Temporary Tattoo
Custom Metallic Temporary Tattoos for ultimate shine and shimmer. Metallic Tattoos are printed with Skin-Safe Cosmetic Grade Ink and Made in the USA!
FAQ

Our customer support is available Monday to Friday: 8am-4pm AZ time.
Average answer time: 24h
Can I customize a tattoo design?

Yes, You can design your own tattoos here in a few easy steps. You don't need real ink to make an impact. Let the power of temporary tattoos tell your story.

We specialize in a wide range of temporary body art including custom tattoos, with the option to add unique effects like Metallic, Glitter, Glow-In-The-Dark, and so much more! Experiment with a new look, without the commitment.

Our temporary tattoos are easy to apply, and last for up to 5 days. When you're ready for your next look, simply remove your fake tattoo using our lemon-scented tattoo remover wipes. Wash and repeat with your new fave design.

Have a particular tattoo in mind and can't find it in our collections? Customize your own! From editing your design, to choosing the size, color, or finish, we help you create a custom temporary tattoo as unique as you. Just upload your design to get started.
Are temporary tattoos safe?

Of course! Our tattoos are safe and non-toxic for all ages. We manufacture them right here in the U.S.A. using skin-safe, FDA certified cosmetic-grade inks. All our tattoos meet US, Canadian, and European Union safety standards for cosmetic and toy products. Certification documentation is available upon request.

With a vast collection of designs for both adults and kids, we love everything temporary tattoo related. We're committed to the highest standard of quality, which is why we're the #1 manufacturer of temporary tattoos in the world. All our products are tested annually to meet or exceed regulations in the United States with ingredients that have been approved by the FDA. All products have the ingredients clearly stated on the back label. At TemporaryTattoos.com, we offer easy ordering, fast shipping, customized designs, and the lowest prices... guaranteed! Learn more here.
How do I get FREE tattoo removers?

We will include one free remover wipe per tattoo. This offer is available for up to 50 free remover wipes for stock tattoo orders. 
How long do temporary tattoos last on skin?

Our temporary tattoos last 3-5 days, depending on the size and placement of the tattoo. For the best application, be sure your skin is dry and free of oil, lotion and makeup. Choose a smooth, hair-free area that doesn't crease or stretch when you move. Once applied, our tattoos are waterproof, so they won't come off in the shower or pool.
How do I remove a temporary tattoo?

Our Tattoo Gone™ Temporary Tattoo Removal Wipes are the fastest and safest way to remove your temporary tattoo. We include one with every tattoo you order. Our Removal Wipes are skin-safe for all ages, and let you remove any temporary tattoo with ease. Simply unfold and apply the wipe over the area where your temporary tattoo is placed, and gently massage until it's removed entirely. You can also use other items generally found around the home, such as eye makeup remover, baby oil, or rubbing alcohol. 
Where is temporarytattoos.com located?

Since our establishment in 1989, we've helped countless people express their unique personalities and spread joy through our extensive collection of temporary tattoos from our home in Tucson, Arizona. With billions of tattoos sold, we're proud to be a leading provider of high-quality, fun and affordable temporary tattoos for all ages. Whether you're looking to make a statement, show your support for a cause, or just add some extra flair to your look, Temporary Tattoos has got you covered. Made in the USA with Skin Safe Inks. Browse our vast selection today and let your creativity run wild!

Our customer support is available Monday to Friday: 8am-4pm AZ time.
Average answer time: 24h
RATED 5 STARS BY CUSTOMERS
Like us? Leave us a review. We are continuously striving to improve ourselves and to serve you better. View all reviews.

Like us? Leave us a review. We are continuously striving to improve ourselves and to serve you better. View all reviews.

LOVE TEMPORARY TATTOOS
Love Temporary Tattoos, those are the prize I give to my little patients after their dental appointment, since many years ago. They always come back asking for their tattoo.
I THOUGHT INKBOX WAS BETTER
i thought ink box was better but nope this is now my favorite site to order from
SUPER FUN AND EASY!
Designing my own tattoos was super fun and easy! I'm pleased with the results.
LOTS OF CHOICES!
Easy to order and lots of choices! Easy payment process!
EXCELLENT PRODUCT
First time shopper - looks like an excellent product. Excited to receive our order for our Irvington girls varsity field hockey senior day & homecoming. Thank you!!
BETTER THAN I EXPECTED
Beautiful product. Better than I expected. Stay on for a while.
BEAUTIFUL ART & AMAZING SELECTION
Simple and easy to select tattoos, beautiful art and an amazing selection for those of us with reconstruction due to breast cancer. I would never consider a real tattoo as I get infections very easy, so this is an amazing solution for me.
I'VE BEEN USING YOUR TATTOOS FOR 15 YEARS
Easy to see every tattoo, size always correct, prices are reasonable, I've been using your tattoos for 15 years.
FAIR PRICING, FAST DELIVERY
Great tattoos, fair pricing, fast delivery.
THEY STAY ON OVER A WEEK
I have used temp tattoos before and they can stay on over a week. They look real with nothing shiny to give it away. High quality
THIS WILL BE A HIT!
So fun to go through the large selection, choose all that struck me, then pull a few out. Granddaughter's 2nd birthday - I'm sure this selection will be a hit.
ALWAYS HAPPY
Always happy! From a customer of many years.
EVERYTHING WAS PERFECT
Thank you to a great customer service rep, everything was perfect. Thanks for going above and beyond.
FAST TURNAROUND
so easy to order - and appreciate the fast turnaround - can't wait to get them!!!
THESE TATTOOS ARE PERFECT
These tattoos are perfect for our National Night Out event. These kids are going to love them. Thank you for the prompt, thorough service, we will be ordering again for sure.
BEEN BUYING FOR YEARS
Been buying from here for years good service good pricing!
QUICK AND EASY
Quick and easy. Had a question and a CSR helped quickly and friendly.
EXACTLY WHAT I WANTED
Exactly what I wanted and easy to order
EXCELLENT SHIPPING TIME
Excellent shipping time. Looking forward to using these tattoos!
CAN'T WAIT!
Very easy process. Can't wait for my custom tattoos. Been using you exclusively for my business and know they will exceed my expectations.