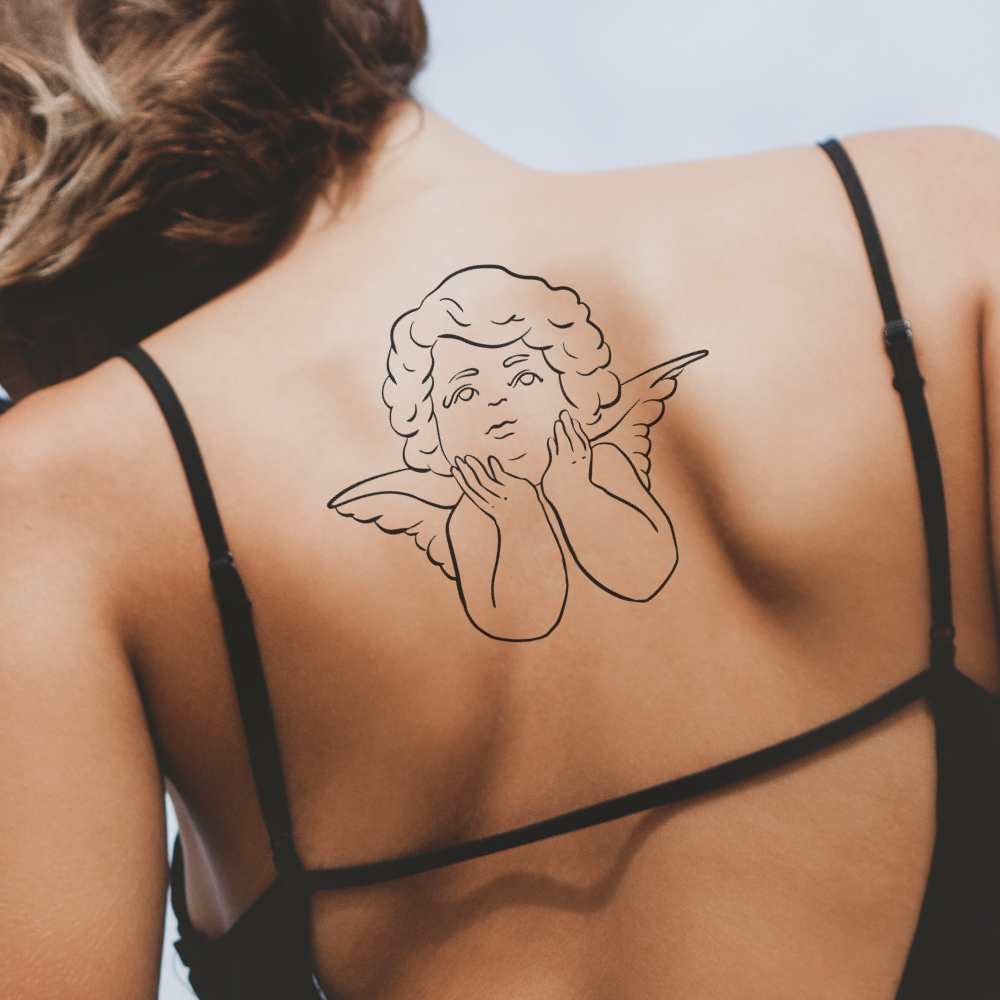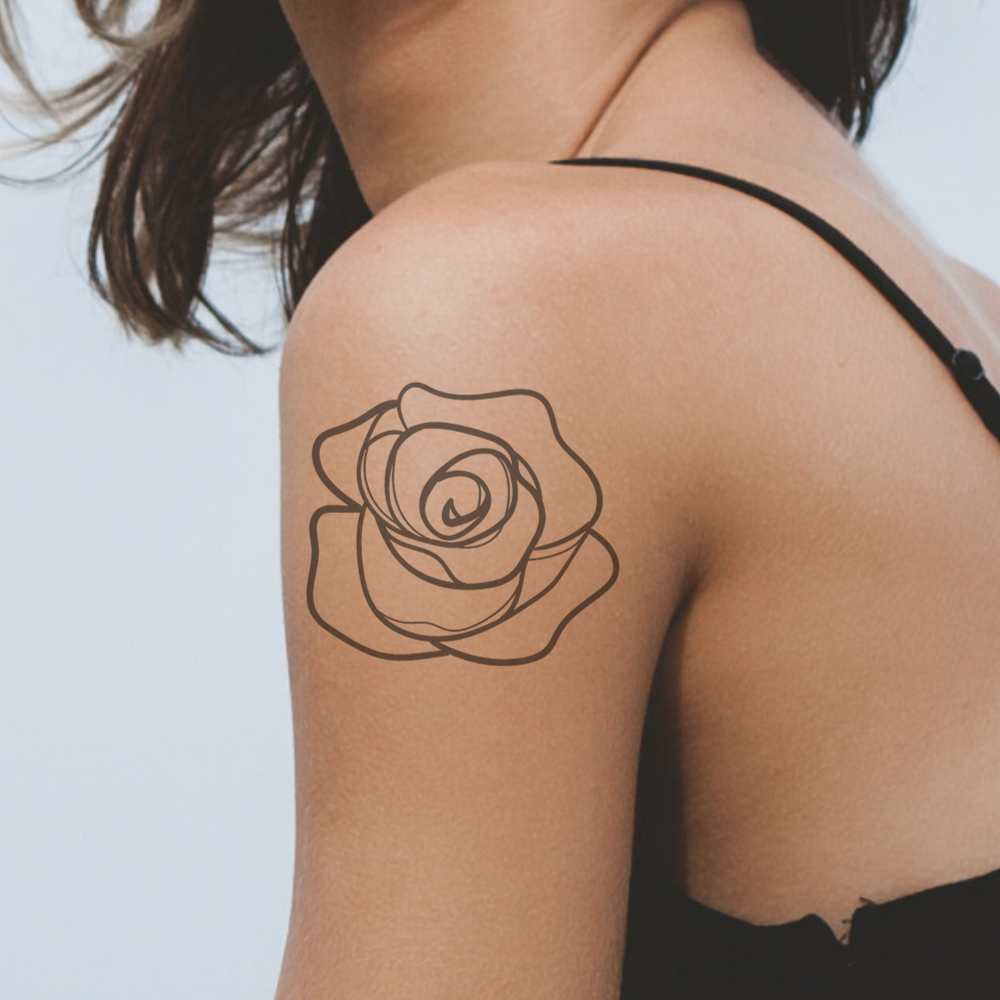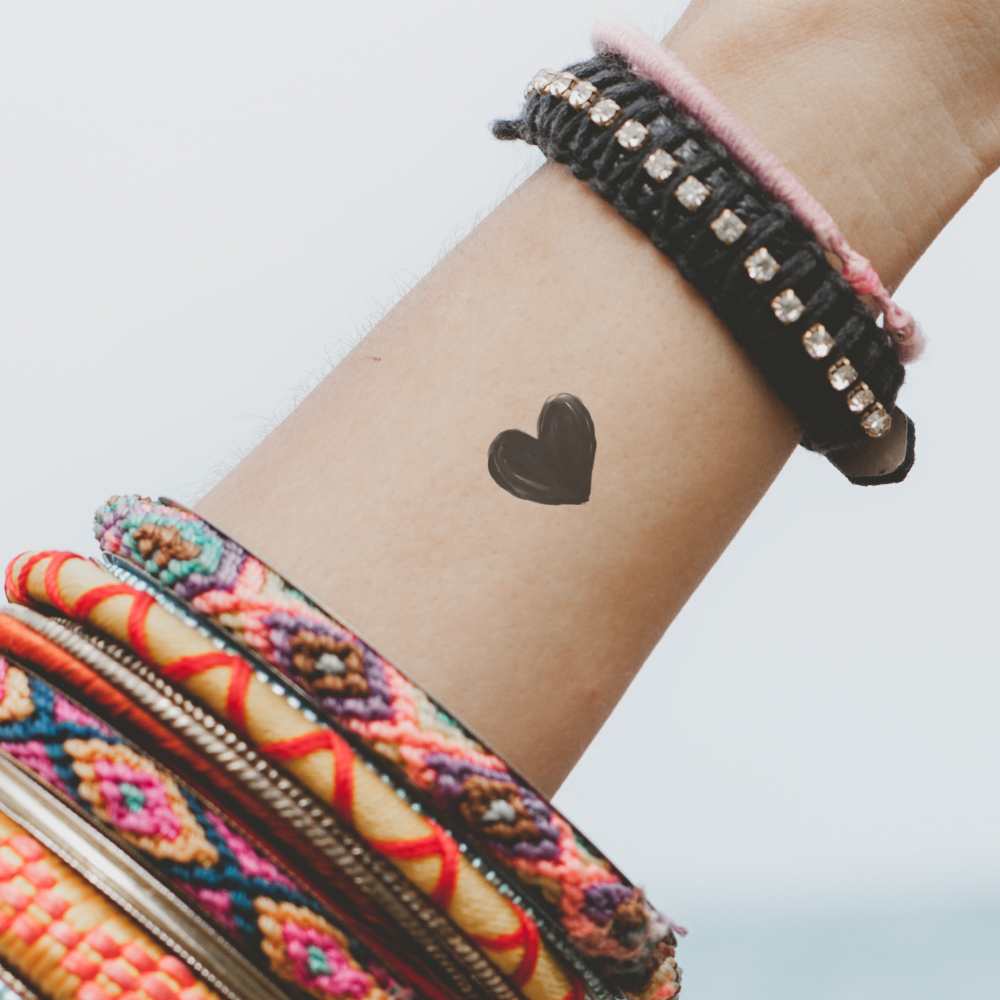 Small Custom Tattoo
Small and elegant. The 1.5 in x 1.5 in custom tattoo is perfect for a small area like the hand or foot. It also is a great size for behind the ear.
Start Design
Medium Custom Tattoo
Looking for something big but not huge? The 3in x 3in is a nice size that will fir on a variety of body parts easily.
Start Design
Large Custom Tattoo
Our 6 in x 6 in custom temporary tattoo is a customer favorite. This is the perfect size for the back, sleeve or thigh placement.
Start Design
SPECIAL EFFECTS
Choose From 4 Options
RATED 5 STARS BY CUSTOMERS
Like us? Leave us a review. We are continuously striving to improve ourselves and to serve you better. View all reviews.

Like us? Leave us a review. We are continuously striving to improve ourselves and to serve you better. View all reviews.

LOVE TEMPORARY TATTOOS
Love Temporary Tattoos, those are the prize I give to my little patients after their dental appointment, since many years ago. They always come back asking for their tattoo.
I THOUGHT INKBOX WAS BETTER
i thought ink box was better but nope this is now my favorite site to order from
SUPER FUN AND EASY!
Designing my own tattoos was super fun and easy! I'm pleased with the results.
EXCELLENT PRODUCT
First time shopper - looks like an excellent product. Excited to receive our order for our Irvington girls varsity field hockey senior day & homecoming. Thank you!!
I'VE BEEN USING YOUR TATTOOS FOR 15 YEARS
Easy to see every tattoo, size always correct, prices are reasonable, I've been using your tattoos for 15 years.
ALWAYS HAPPY
Always happy! From a customer of many years.
EVERYTHING WAS PERFECT
Thank you to a great customer service rep, everything was perfect. Thanks for going above and beyond.
FAST TURNAROUND
so easy to order - and appreciate the fast turnaround - can't wait to get them!!!
THESE TATTOOS ARE PERFECT
These tattoos are perfect for our National Night Out event. These kids are going to love them. Thank you for the prompt, thorough service, we will be ordering again for sure.
BEEN BUYING FOR YEARS
Been buying from here for years good service good pricing!
HOW TO CREATE A CUSTOM TEMPORARY TATTOO
4 Easy Steps
White Ink Options
Classic and glow-in-the-dark custom temporary tattoos have white ink options, which change how vibrant the image shows on your skin.
When sending us your order, please note in the special instructions field the way you wish the white ink to be used so our printing team will know exactly what you want your custom temporary tattoo to look like.
Please note, when ordering a custom temporary tattoo, we do not print with a white background unless otherwise specified.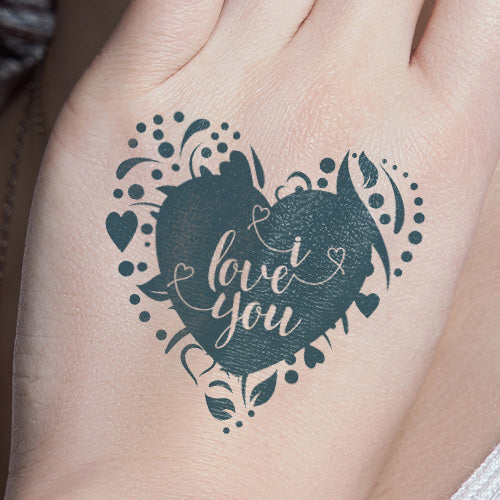 No White Ink
Any white areas in the design will be transparent when applied to the skin.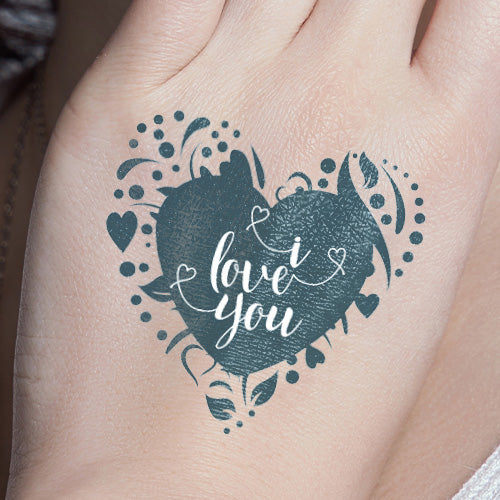 Spot White Ink
The white ink will be printed only where specified in the Special Instructions. Example: Behind the "I love you" only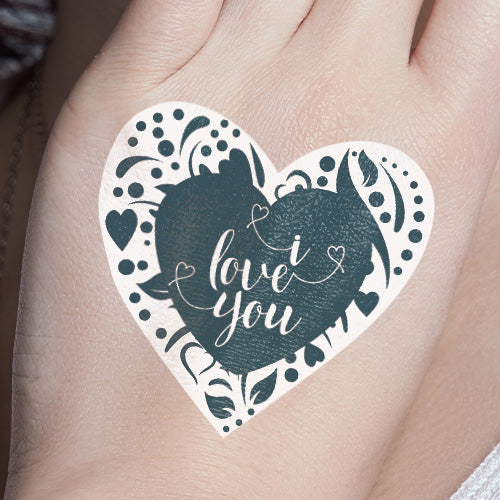 Flood White Ink
White ink is printed behind the entire design. The colors and white areas are vibrant.
What are custom temporary tattoos, and how are they made?

Custom temporary tattoos are personalized designs printed on temporary tattoo paper. They are created by printing your design onto the paper and then applying a protective layer to make them last longer.
How long do custom temporary tattoos last?

Custom temporary tattoos typically last for 3-5 days, but the duration can vary depending on factors like skin type, application, and care.
Can I create my own design for custom temporary tattoos?

Yes, you can create your own designs for custom temporary tattoos. You can upload your design file or use our design tool to create a unique tattoo.
What is the minimum order quantity for custom temporary tattoos?

Our minimum order is 200 tattoos.
Are custom temporary tattoos safe for all skin types?

All our products are tested annually to ensure they meet an extensive list of US regulations and requirements. Our custom temporary tattoos are generally safe for all skin types. However, it's essential to perform a patch test if you have sensitive skin or any allergies to adhesive materials.
How do I apply and remove custom temporary tattoos?

To apply, place the tattoo on clean, dry skin and press a damp cloth on it for about 30 seconds. To remove, use baby oil or rubbing alcohol and gently rub the tattoo until it comes off. You can also purchase our Tattoo Remover Wipes, a convenient packet that makes removing your custom tattoo a breeze!
Can custom temporary tattoos be used for promotional purposes?

Absolutely, custom temporary tattoos are a popular choice for promotional events, marketing campaigns, and giveaways. They can feature company logos, slogans, or brand messages.
Are there different types of custom temporary tattoos available?

Yes, we offer various types, including custom metallic tattoos, custom glitter tattoos, and custom glow in the dark tattoos.
Can custom temporary tattoos be customized in terms of size and shape?

Yes! We offer customization options for size and shape, allowing you to tailor the tattoos to your specific needs and preferences.
How can I order custom temporary tattoos and what's the typical turnaround time?

You can order your custom temporary tattoos through our website. If you need any help, be sure to reach out to our customer support team.

Custom orders ship within 5-7 business days. Specialty products will have additional production time. Please reach out if you need an exact shipping date.

Once your order ships, you will receive a shipping confirmation and tracking number. View our Shipping & Returns page for more details.
Can I print anything I want for my custom temporary tattoo?

Any designs we receive are reviewed by our team to ensure they follow our community guidelines. Sometimes this means we won't be able to create your desired design. If this is the case, our team will always reach out to you and explain why and how we can help.
Our customer support is available Monday to Friday: 8am-4pm AZ time.
Average answer time: 24h