Henna: What You Should Know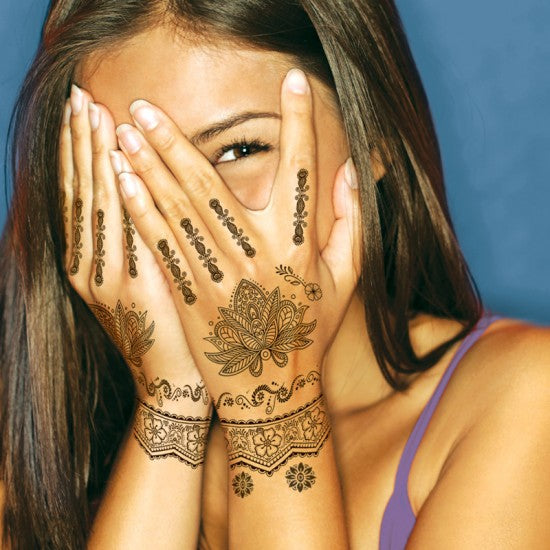 What To Know About Henna
Some trends come and go, like gaucho pants and blue eye shadow. There are some trends, however, that will always be present! Henna is one of them. This style of temporary tattoo is made from a plant that grows in tropical climates. Throughout history, people have used this form of tattoo for weddings, religious ceremonies and also for body adornment. This tradition is many centuries old and was originally used by the people of ancient Egypt and India.
In today's fashion world, henna tattoos are a popular alternative for jewelry. We have been seeing it at music festivals as well as in beach fashion! Henna is an art form in itself, so applying natural it on your own is pretty difficult and more than likely won't turns out like the pictures. If you head out seeking some art done by a 'professional' there are some things you should know.
While the real henna is a plant based substance, there has been another type of ink running rampant. This faux henna is not natural at all, it contains a substance called para-phenylenediamine (PPD) which is a chemical used in hair dye. The chemical, while safe to use on hair, can be very harmful to the skin! Some may not experience any irritation immediately, however, the reaction to the chemical can leave permanent scarring on the skin and can also lead to sensitivity and increased risk of an allergic reactions to products containing the chemical, such as hair dye.
In a survey conducted by the British Skin Foundation, 4 out of 10 dermatologists claimed to have treated patients with skin reactions caused by black ink. Many of these cases were explained to have been on patients under the age of 16. This horrific outbreak shouldn't taint the history of beauty and expression of art. So steer clear of any henna that is dark in color. The real, plant-based henna is orange or red in color, sometimes with a brown tint. 
Feeling Suspicious of Henna?
With all these dangers and risks associated with henna style temporary tattoos, some may decide to surpass on the style altogether. However, we can offer you a safe alternative! Our line of Henna Style Temporary Tattoos meets or exceeds all requirements and standards of FDA, CPSC, ASTM and all Canadian and European Union standards for importation of products designed for dermal contact.
Our tattoos come in a variety of designs and colors. While natural henna does not ever appear black, our temporary tattoos do! And they don't contain a single trace of PPD, so you don't need to worry about nasty burns scarring your skin permanently.