Promoting a Children's Book with Custom Tattoos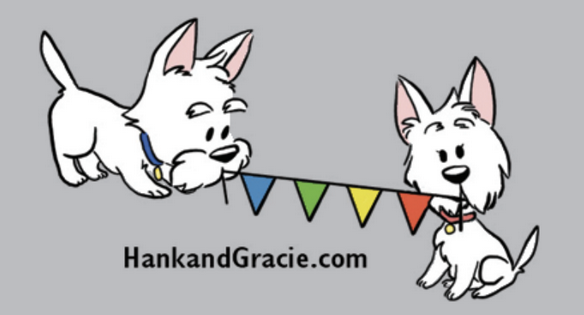 Who:
The Knitting Nest, a knitting store and community space based in Austin, Texas. Stacy Klaus, the store's owner, teamed up with her 18-year-old niece and illustrator Molly Wade to create a children's book called "Hank and Gracie Save The Day." Hank and Gracie, the book's main characters are based on Klaus' real life pets, two West Highland Terriers.
The Need:
Klaus was looking for a way to promote her new book and thought that custom temporary tattoos would help her to spread the word. 
Hank and Gracie are characters based on the author's two West Highland Terriers.
The Tattoo:
The tattoo features one of Wade's illustrations of Hank and Gracie playfully tugging on a colorful set of decorative flags. Klaus also put the book's website "HankandGracie.com" in the tattoo design, to enable fans to learn more and purchase a copy of the book online.
Cover Image from Cooperative Press.
The Results:
Klaus says she gives the tattoos out to children who visit the Knitting Nest with their parents and kids love the adorable Westies in the illustration. She also hands out tattoos at book signings in Austin and Houston, and plans to use the tattoos at the Texas Book Fair. With the second book underway, "Hank & Gracie Stop A Bully," Klaus plans to use custom temporary tattoos at future books signings and events and may even order a larger size next time!
Learn more about Hank and Gracie's adventures here.