Ronald McDonald House, Upper Midwest: Helping Children and Families Stay Together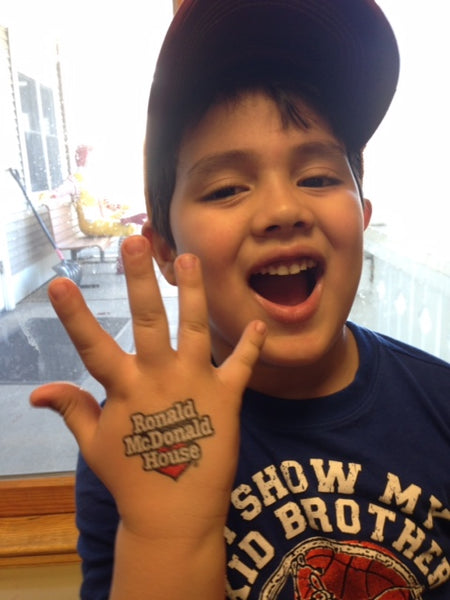 We are so thrilled to be able to help meaningful organizations by creating custom tattoos for them to use, especially to raise awareness. When we learned that we would be able to help Ronald McDonald House, Upper Midwest, we jumped at the opportunity. We've partnered with our friends at TattooSales.com to donate 5,000 custom temporary tattoos to this deserving organization.
About the Organization
Ronald McDonald House charities have been a staple in the community for many years. Providing housing for the families of sick children who want to stay close to the hospital is an invaluable service to loved ones. Our service to children and families began on October 2, 1979, when the Ronald McDonald House of the Twin Cities opened. It was modeled after the original Ronald McDonald House, founded in Philadelphia in 1974 by Philadelphia Eagles football player Fred Hill and his wife.
The founders of the Twin Cities' Ronald McDonald House were a small but determined group of local parents, physicians, nurses and McDonald's restaurant owners and operators. They raised funds to buy and renovate an old University of Minnesota fraternity house on Oak Street in Minneapolis. On opening day, the House offered rooms for eight families. Over the past 35 years, the main House has expanded several times, and today provides rooms for 48 families. Now we have four core programs that reach more than 5,000 families a year from across Minnesota, the United States and around the world.
Terra Peterson, Manager of Community Fundraisers discussed with us what it means to be a part of the Ronald Mcdonald House family, and the importance of a charity like this one:
Sometimes when a child gets sick they have to go to a hospital far from their families. Parents want to be with their child every second during such a difficult time. That's exactly why there is Ronald McDonald House Charities, Upper Midwest. We help give togetherness because children heal faster when they're with loved ones. This year we are celebrating 35 years of providing a home-away-from-home for families with children facing serious medical challenges. Thanks to our many supporters, including TattooSales, we are able to provide families hope, healing, strength, and above all, the opportunity to heal together.
We were excited to help Ronald McDonald House, Upper Midwest celebrate 35 years of helping children heal! Here are the organizations core program for helping children and their families:
Ronald McDonald House Charities do so much to help the community and families that need a welcoming place to call home in hard times. We were thrilled to create temporary tattoos for RMHC and give a little love back to those who give so much for others. Here's a glimpse of the kids at the Ronald McDonald House enjoying their temporary tattoos!  
We want to hear from you! Nominate a deserving non-profit organization in the comments below.