Swim Team Tattoos: Eat My Bubbles!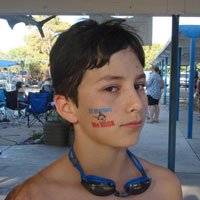 Spring and summer means warmer temperatures, and that means one thing to a lot of kids we know: swim season! As you gear up for morning swim practices and all-day swim meets, consider adding some fun to your team's routine with team spirit temporary tattoos.
One of our favorite local swim teams, the Catalina Terrace Marlins, shows their team pride every summer with fun custom tattoos. Temporary tattoos stay on in the shower and in the pool, so they'll last through even the most competitive relays and dives. The Marlins came up with some adorable tattoos, including "Eat my bubbles!"
Give your team's temporary tattoos to all of your swimmers. Plus, you can add tattoos to your fundraising strategy. Try selling your temporary tattoos for $1 each to parents, friends, and siblings at your home meets to raise money for the team.