Festival Season: This Year's 7 Must Haves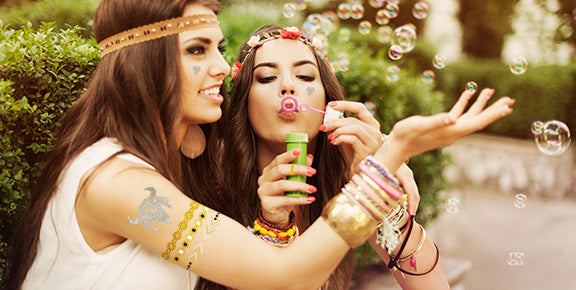 Celebrating Festival Season
Festival season is right around the corner, so you've probably been brainstorming ways to stand out in those big crowds. Flower crowns and high waisted shorts are definitely an outplayed trend of the past. If this is your first festival then we've got some hacks and style tips that will make your experience the best it can be. 
Here are 7 tips on how to rock your festival experience:
Are you camping out? Well, seeing as most festivals are filled with about 30,000+ people… The shower lines are going to be long. Very long. So we recommend investing in a solar shower. You simply fill the bag with water in the morning, leave it out in the sun all day while you're enjoying your favorite artists, and when you come back to your campsite you will have a refreshing shower- free of lines!
Backpacks and purses are annoying to carry and often too big to fit the few necessities you'll need. Solution: fanny packs. Now before you start having 80's flashbacks… Recently there have been some surprisingly adorable designs inspiring a major comeback.
The latest trend that is grabbing the attention of both fashion bloggers and festival attendees alike is… you guessed it! Temporary Tattoos. Need some ideas? Metallic armbands can be used for a boho chic look.
Sun.Screen. If you're a golden goddess blessed with olive skin tones and don't usually worry about sunburns... You are

not

exempt from this. Lather up throughout the day and be sure to drink enough water. Spending hours outside jamming out to your favorite artists with your best friends is a blast! But being forced back into the reality of everyday life post-festival will be a much smoother transition sans a fried tomato type sunburn.
While you're roaming around checking out vendor booths, dancing to the beats of your favorite songs there is bound to be a photo op... or 1,000. But after snapping pics from sun up to sun down your phone is probably going to run out of juice. A portable charger is small, can fit inside a pocket or small bag. And it just might be a lifesaver if you get separated from your peeps.
For all you festival goers who will be partaking in some fun in the sun... and maybe even the desert... its going to be hot. So while there may be designated spots to cool off, a wise addition to your festive-must-haves is a spray bottle/fan combo. Waiting in between sets for the next act to come on can be both boring and HOT. Having a fan to cool you and your buddies down is the perfect way to alleviate any impatience the heat may be creating!
Henna is a style of temporary tattooing that has been around for over 5,000 years! It is a unique and gorgeous way to wear your art. Unfortunately, there have recently been many health concerns with a type of henna that has been circulating known as black henna. It's dangerous and can be toxic to your skin and can also leave scarring. The beautiful art form is being bashed for its dangers, and often times this discourages people from showcasing the style. LUCKILY, we have a line of henna temporary tattoos that are 100% safe for skin and much easier to apply for those of us that are slightly artistically challenged.
Whether you're going to be roaming around the California deserts at Coachella, dancing around in Tennessee at Bonnaroo or relaxing with some yoga sessions at Lightning in a Bottle in Northern California... Stay safe and use these helpful hints to have the greatest experience possible! Make sure to tag us in your festival pics that feature our tattoos! We'd love to share:)
Use the Promo Code: FOOLS15 to get 15% off your order! Offer valid through 4/8/2016