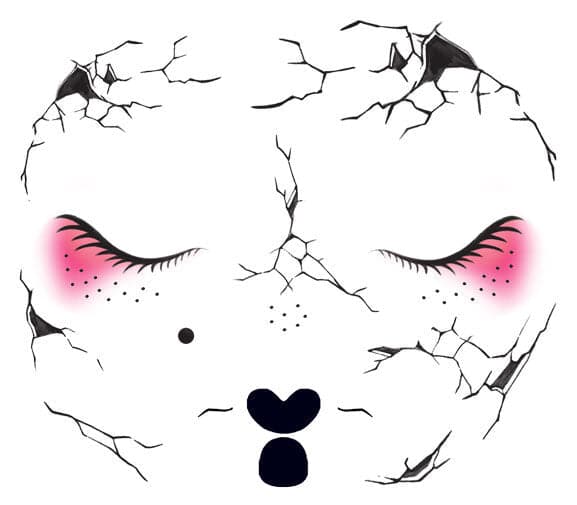 Broken Doll Face Costume Temporary Tattoo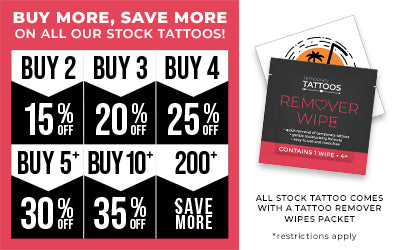 SKU: HAL-105
Step into the enchanting world of Halloween with the mesmerizing allure of our "Broken Doll" costume. Are you ready to embody the hauntingly beautiful aura of a porcelain doll? Look no further than our exquisite "Broken Doll Face Costume" – a true marvel that encapsulates the delicate yet haunting essence of a shattered porcelain masterpiece.

Picture yourself adorned in this meticulously designed temporary tattoo, meticulously crafted to mimic the intricate cracks and details of broken porcelain. As you wear this intricate tattoo, you'll notice how it magically transforms you into a living, breathing embodiment of a broken doll, evoking a sense of mystery and fascination wherever you go.

Embrace the eeriness of Halloween as you confidently showcase this captivating "Broken Doll Face Costume." Its carefully curated design captures the essence of fragility and strength, merging them into a spellbinding visual experience. This costume isn't just an outfit; it's a journey into the heart of a shattered porcelain world, where elegance intertwines with spookiness.

Prepare to leave a lasting impression at every Halloween gathering, as the "Broken Doll Face Costume" casts its enchanting spell on all who behold it. From the intricate detailing to the hauntingly realistic appearance, this costume invites admiration, curiosity, and a touch of delightful fear. Let the kids revel in the spooky thrills that only this remarkable ensemble can offer, as you embrace the role of a broken doll brought to life.

In a world where costumes are a canvas for creativity and self-expression, the "Broken Doll Face Costume" stands out as a masterpiece of artistry and craftsmanship. This Halloween, dare to be different, dare to be enchanting, and dare to captivate all with the mesmerizing charm of a broken doll brought to life.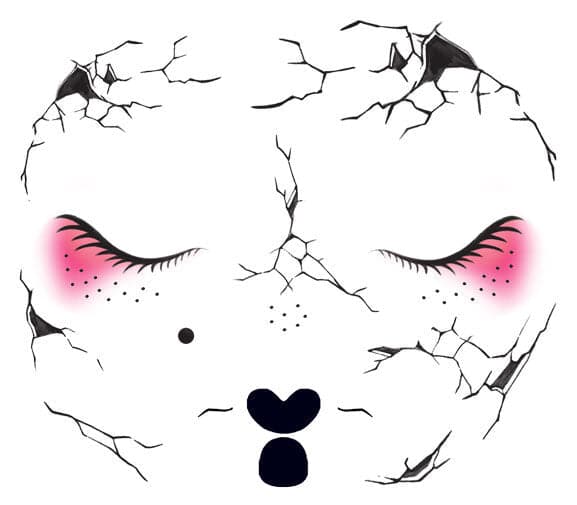 Free Tattoo Wipe
Enhance your tattoo experience with our exclusive offer:
Receive a complimentary tattoo wipe with every purchase of stock tattoos.
Applies on orders up to 50 tattoos.
RATED 5 STARS BY CUSTOMERS
Like us? Leave us a review. We are continuously striving to improve ourselves and to serve you better. View all reviews.

Like us? Leave us a review. We are continuously striving to improve ourselves and to serve you better. View all reviews.

LOVE TEMPORARY TATTOOS
Love Temporary Tattoos, those are the prize I give to my little patients after their dental appointment, since many years ago. They always come back asking for their tattoo.
I THOUGHT INKBOX WAS BETTER
i thought ink box was better but nope this is now my favorite site to order from
SUPER FUN AND EASY!
Designing my own tattoos was super fun and easy! I'm pleased with the results.
LOTS OF CHOICES!
Easy to order and lots of choices! Easy payment process!
LOTS OF CHOICES!
Easy to order and lots of choices! Easy payment process!
BETTER THAN I EXPECTED
Beautiful product. Better than I expected. Stay on for a while.
BEAUTIFUL ART & AMAZING SELECTION
Simple and easy to select tattoos, beautiful art and an amazing selection for those of us with reconstruction due to breast cancer. I would never consider a real tattoo as I get infections very easy, so this is an amazing solution for me.
I'VE BEEN USING YOUR TATTOOS FOR 15 YEARS
Easy to see every tattoo, size always correct, prices are reasonable, I've been using your tattoos for 15 years.
FAIR PRICING, FAST DELIVERY
Great tattoos, fair pricing, fast delivery.
THEY STAY ON OVER A WEEK
I have used temp tattoos before and they can stay on over a week. They look real with nothing shiny to give it away. High quality
THIS WILL BE A HIT!
So fun to go through the large selection, choose all that struck me, then pull a few out. Granddaughter's 2nd birthday - I'm sure this selection will be a hit.
ALWAYS HAPPY
Always happy! From a customer of many years.
EVERYTHING WAS PERFECT
Thank you to a great customer service rep, everything was perfect. Thanks for going above and beyond.
BEEN BUYING FOR YEARS
Been buying from here for years good service good pricing!
EXCELLENT SHIPPING TIME
Excellent shipping time. Looking forward to using these tattoos!
HOW LONG DO TEMPORARY TATTOOS LAST ON SKIN?

Our temporary tattoos last 3-5 days, depending on the size and placement of the tattoo. For the best application, be sure your skin is dry and free of oil, lotion and makeup. Choose a smooth, hair-free area that doesn't crease or stretch when you move. Once applied, our tattoos are waterproof, so they won't come off in the shower or pool.
HOW TO APPLY A TEMPORARY TATTOO?

Our temporary tattoos are fast and easy to apply; and all you need is water and a wet cloth. Your skin should be clean, dry, and free of lotion, oils, and makeup. First, remove the clear, protective top sheet. Then, press the tattoo firmly onto your skin with the design facing down. Hold a wet cloth against the back of the tattoo, press down and make sure to wet the paper thoroughly. Wait 30 seconds and slowly peel off the paper backing. Gently rinse the image with water for the best result and allow the tattoo to dry before touching or covering with clothing. Every TemporaryTattoos.com tattoo has application instructions printed on the back as well.
HOW TO REMOVE A TEMPORARY TATTOO?

Our Tattoo Gone™ Temporary Tattoo Removal Wipes are the fastest and safest way to remove your temporary tattoo. We include one with every tattoo you order. Our Removal Wipes are skin-safe for all ages, and let you remove any temporary tattoo with ease. Simply unfold and apply the wipe over the area where your temporary tattoo is placed, and gently massage until it's removed entirely. You can also use other items generally found around the home, such as eye makeup remover, baby oil, or rubbing alcohol. READ MORE
ARE TEMPORARY TATTOOS SAFE FOR APPLICATION ON MY SKIN?

Of course! Our tattoos are safe and non-toxic for all ages. We manufacture them right here in the U.S.A. using skin-safe, FDA certified cosmetic-grade inks. All our tattoos meet US, Canadian, and European Union safety standards for cosmetic and toy products. Certification documentation is available upon request. Learn more here.