Create Creepy Costumes with Scar and Wound Tattoos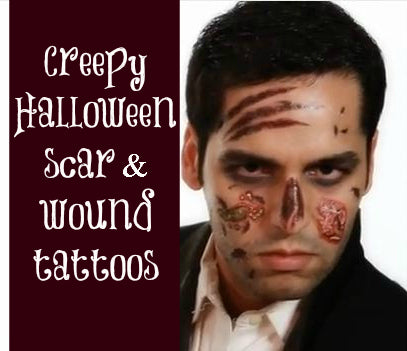 Who's ready for Halloween?
Have you done everything on the universal Halloween checklist?
*Buy mountains of candy - CHECK!
*Carve (or Spooky glow in the dark tiny tats) your pumpkin - CHECK!
*Buy creepy, realistic Gory slashes and scars... (have you checked this one off yet?!)  
Every aspiring zombie, vampire, ghoul and ghost needs a few spooky, scary temporary tattoos to complete their Halloween look. So, we're here to help you check off the oh-so-important "buy creepy Halloween accessories" box.
Tattoo Manufacturing has designed a huge selection of scar and wound tattoos for Halloween.
Looking for bugs and pus? We've got you covered.
Is your costume begging for a few scars and stitches? We've got that, too.
Temporary tattoos are easy to apply with water. When you're ready to remove them, just use rubbing alcohol, baby oil or hand sanitizer.
Browse our full selection of Halloween tattoos and create the perfect costume! Use code BLOG15 for 15% off your order.    
**Order by noon PST on 10/26/12 to receive your tattoos by 10/31/12 - anywhere in the US.
And, remember! Send us your best Halloween costumes that use temporary tattoos for a chance to win!
About TemporaryTattoos.com
We are excited to be celebrating our 25th year as the world's largest manufacturer of temporary tattoos! TemporaryTattoos.com produces 7 million temporary tattoos each day, making us the largest manufacturer of temporary tattoos in the world. All of our products are made in the USA in sunny Tucson, Arizona.