The Mama Bear Effect Advocates for Child Abuse Prevention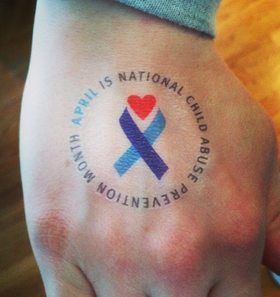 April is child abuse prevention month. A time when people are encouraged to speak up and speak out about abuses that affect so many children every day. We are fortunate enough to work with an organization that is on the forefront of advocacy for child abuse prevention, The Mamma Bear Effect. This organization is the recipient of 5,000 custom temporary tattoos, donated in partnership with TemporaryTattoos.com.
About the Organization:
The Mama Bear Effect educates, encourages, and stands up in the fight against child abuse. It provides parents with the resources to teach their children what is right and wrong when it comes to their bodies, advocates for children who have been abused in the past, and encourages everyone to take a stand against child abuse.
Caring for a child is not only about commitment, it's about taking responsibility for guiding children into adulthood. It's about sacrificing our wants and needs and giving our time, energy, and love to our children.

We would give our life to save a child - so why not give some time to be educated, to empower our children, and to engage our communities to take responsibility for protecting children from sexual abuse?

Do not be afraid; do not be too uncomfortable to talk about this. Be proud. We can save children by overcoming our fears and shedding light on this silent epidemic. There are children that need us now.
- The Mama Bear Effect
How Can You Help Keep Kids Safe?
Get Educated: One of the most important things you can do for yourself and the children you are advocating for is to become educated on the indications and signs of child abuse, and the best way to handle situations of suspected child abuse. Knowledge truly is power. The Mama Bear Effect has a great blog filled with posts to educate about child abuse.
Empower Your Children: Making sure your children know what is right and wrong when it comes to their interactions with other people is key. It is important to build your child up, be there for them, and make sure they know they can always come to you.
Engage Your Community- Spreading the knowledge to other members of your community is just as important as educating yourself. You can engage other people in learning, and in doing so create a group of people that will advocate for all of the children in your area.
We were grateful to be able to do our part in standing up against child abuse by partnering with TemporaryTattoos.com to donate temporary tattoos to this amazing organization. For more information on how you can advocate for children, and educate the children in your life please visit www.themamabeareffect.org. Do you want to nominate a charity or non-profit organization deserving of 5,000 custom temporary tattoos? Let us know in the comments below!