Victoria and Daniel's Unique Texas Tattoo Wedding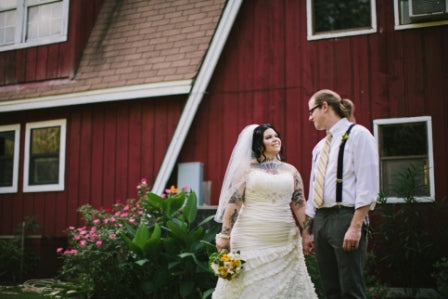 Victoria and Daniel celebrated a "country home" themed wedding this year in Cedar Creek, TX. The couple included many unique touches in their wedding day - an iconic red barn backdrop, mason jar glasses, and - our favorite - custom wedding temporary tattoos of their dog, Bacon.
Victoria explains. "Our dog, Bacon, is our pride and joy. He was part of the ceremony." But Bacon wasn't just a member of the wedding party. His face was featured at the reception on temporary tattoos.
Why a temporary tattoo station? (Why not?) "Daniel is a tattoo artist and it just felt appropriate to incorporate tattoos in some way. Everyone loves Bacon, so we chose his face for the tattoos. We had a designated table with a chalkboard that said "Tattoos By Bacon" that had a bucket filled with the tattoos, plus a spray bottle of water and paper towels. Guests were welcome to make their way to the table and put on as many tattoos as they wanted. It was amazing to see someone at the table throughout the whole night!"  
The happy couple in front of their gorgeous red barn backdrop.
"Guests had tattoos on their face and neck. Everyone from the young kids to the older crowd told us how much they loved them! It was awesome!"
Victoria was impressed with the temporary tattoos right away, "Once they arrived I immediately tried one. I put the tattoo on my hand and went on with my day. I did the dishes and showered and it didn't come off for several days. Not only did the tattoos come out exactly like the picture I uploaded, but the quality of the product was top notch."
Want more great ways to incorporate tattoos into your nuptials? Check out our recent post on wedding tattoos.
All photos in this post are by Josh Huskin.