Rune-like Tribal Tattoos from City of Bones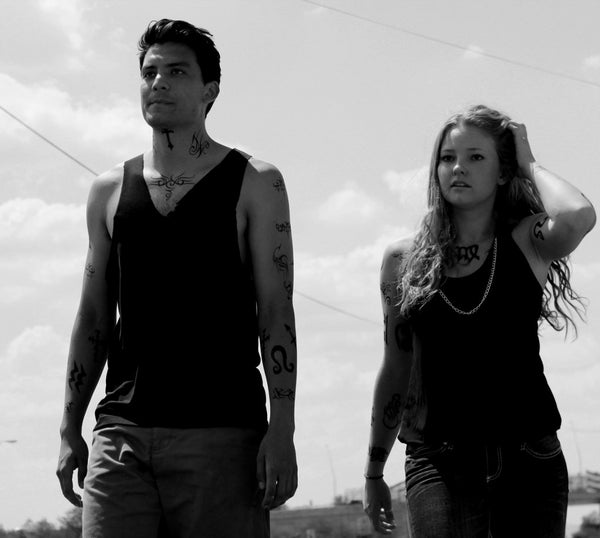 Archangels, faeries, warlocks, witches, demons, werewolves, vampires and all means of evil-doers populate the latest entry into the young-adult, urban fantasy film scene. The film version of Cassandra Clare's "City of Bones," adapted from the first of six books in the "Mortal Instruments" series, premiered in theaters on August 21.
Set in New York City, the story revolves around almost-16-year-old Clary Fray, who witnesses three teens, whom nobody else can see, commit a murder in an all-ages club --- and then she watches the victim's body simply disappear. The murderers turn out to be a clandestine race descended from angels, known as Shadowhunters, who secretly protect mundanes (humans) from a vast range of other-worldly creatures. Their victim was a demon.
Shadowhunters display their rune-like temporary tattoos while protecting the neighborhood from demons.
After receiving an alarming call from her mother, Clary returns to her apartment and is bitten by a particularly nasty demon, normally a fatal attack. She is rescued by the mysterious Jace, who marks her with a protective rune and carries her off to recuperate at a gothic cathedral called The Institute (also invisible to humans) under the guidance of the Shadowhunters' tutor, Hodge. Clary soon finds herself immersed in a clandestine world of demon hunters as she, her best (human) friend Simon, Jace and his adoptive siblings Isabelle and Eric, try to find Clary's mother and discover the secrets of her past --- all while preventing the demons from taking over the world.
Rune Temporary Tattoos
Shadowhunters' bodies are covered with tattoo-like runes, or angels' marks --- the older and more experienced the Shadowhunter, the more runes he or she acquires. Some runes are permanent, and others fade over time to look like silvery tattoos---needing to be remarked to remain effective. Most rune designs look like classic tribal or celtic tattoos.
Shadowhunters here on earth to protect mundanes from demons.
Find out more about the film here. Or, read the books: