Nanobugs Teaches Infection Prevention with Custom Tattoos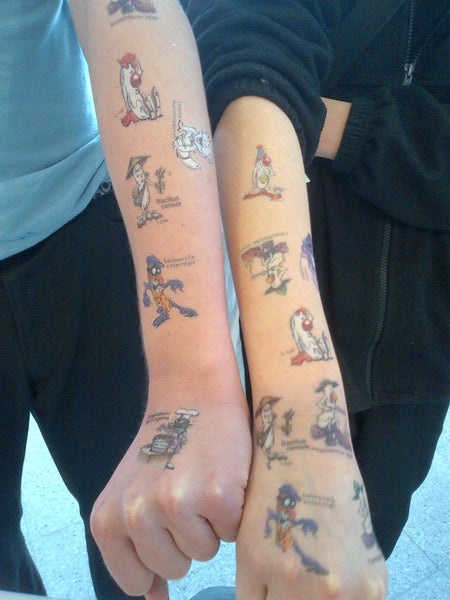 Who:
Nanobugs Inc. is a healthcare and education organization dedicated to creatively teaching people of all ages about microbiology and infection prevention. The nanobugs are imaginative characters that represent different bacteria, viruses, and fungi. From bird flu, to botulism, and salmonella - all of the common ailments are represented!
The Need:
Shortly after launching in 2006, the company was looking for a free giveaway to suit their audience of parents and young children. Temporary tattoos seemed like the perfect fit and the company designed tattoos representing different microbes.
Nanobugs Inc. uses custom tattoos to turn viruses, bacteria, and fungi into characters that help teach people about how infections spread.
The Tattoo:
Nanobugs offers custom tattoos for each of its 50+ characters on its online store. These colorful characters have physical traits that express the nature of the virus, bacteria, or fungus they represent. For example, some nanobugs have a force field around them to show they are antibiotic resistant. On the back of the tattoos, near the instructions, nanobugs always includes its company name and web address to help people learn more.
These microbe tattoos are educational and fun!
The organization uses the tattoos to increase awareness about infection prevention. Nanobugs includes tattoos when sending out food safety, flu prevention and other kits and sampler packs and distributes the tattoos at health fairs and school events. For World AIDS Day in December, the organization donates hundreds of HIV tattoos to a West Africa NGO to increase awareness for this cause.
The Results:
The custom tattoos are the most popular product items Nanobugs offers and they are a huge hit in with children and parents since they are easy to use, made in the USA, and non-toxic. Nanobugs Inc. looks forward to using these custom tattoos in the future to teach audiences about microbiology and how infections are spread, treated, and prevented.  
Both kids and parents love the easy to apply, non-toxic tattoos.